Here are more letters from our satisfied customers, and their happy birds!
---
Rockie is my Moluccan Cockatoo. He is a male, and a very picky eater. I have 2 birds. Harvey will eat anything. Rockie will love corn today and hate it tomorrow. I have struggled to keep Rockie at a decent weight. He averaged around 816 - 820 grams on an empty crop, and about 836 - 840 grams on a full crop. I would even weigh him before and after meals, to get an average of how much he would eat at once. It was approximately 20 grams.
I tried every cook and serve type bird food I could find. One day, I tried Beak Appetit Calypso Spice. He liked it. Well, of course, it was day one. I tried it again a couple days later, and to my surprise, he still liked it. This went on for a couple weeks. He ate it each time. He never ate anything everytime time offered, so I was surprised. He also never showed any excitement about his meals. He did seem to enjoy eating the Beak Appetit Calypso Spice.
I decided to try more Beak Appetit flavors. I got some Cheese Teaser, Nuts for Alfredo, and Cream of Tweet. ( I think these are the most adorable names!) So, one night, I cooked them all up. I work, so I prepared lots of foods ahead, and then freeze them in ice cube trays, and store them in the freezer in plastic bags. It was dinner time for the birds, so I gave them some Cheese Teaser. Before feeding Rockie, he weighed 825 grams. They both ate it up, and Rockie appeared to be excited about it. He gulped it down. I was a bit shocked. He ate every bite I had put in the bowl. Since he had eaten it so well, I gave him some of the Cream of Tweet. He ate it too. All of it!!! Now, I was excited. I went in and got a spoon of Nuts for Alfredo. He ATE IT!!!!!! I again weighed him. He weighed 870 grams. He ate 50 grams. More than twice his normal amount. Needless to say I was pleased.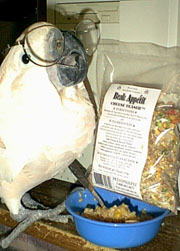 Dr. Rockie
The next morning, I woke them up to give them more. I went with the Nuts for Alfredo, since they got so little of it last night. They both got up for breakfast! Rockie ate 34 grams!
The next day after work, I weighed him when I got home....834 grams. Then I made him and Harv some Cheese Teaser. Rockie ate. I checked the bowl, and he had put a good dent in it, but I wanted to see if he would eat more...I rewarmed it, and got out a spoon. He ATE more!!!!! All but a few bites. I reweighed him and I almost did not believe what I saw. He weighed 894 grams, that's right, 60 grams more than before he ate. He ate 60 grams, 3 times his normal amount!! I am in shock....SHOCK I tell you!!! Rockie has never weighed 894 grams before. I am so excited about this!!!!!!! I just want to open a window and shout out...Rockie likes to eat!!!
I believe Beak Appetit has inspired Rockie to try other things. Last night, he shared my bean soup with me. He never tried new things before, so I think the variety in tastes in the Beak Appetit has also inspired him to try other things.
Thank you Beak Appetit!!! Thank you! Thank you!
You have a good healthly product, easy to cook, and Rockie LOVES it! - Sue S, and Rockie
---
Dear Beak Appetit,

I had purchased two birds, an African Grey and a Yellow Naped Amazon about 24 years ago. Over the years I tried numerous products to no avail. They would eat seed and were very stubborn to eat commercial products. They wanted seed and I wanted healthy birds.

After buying your product and serving it the way you suggested, there was no doubt about what they would be eating anymore. It was an instant hit! There wasn't any time wasted on introducing this food.

Bandit, the Grey, and Rainbow, the Yellow Nape, thank you in the best way they know how, by eating and enjoying it.

I thank you because the frustration of feeding time and money wasted on trying other products for the past 24 years is over. Even my Blue and Gold Macaw, Nikita, joined in and loves it!

Many Thanks,
Bandit, Rainbow, Nikita, and Bonnie (owner)
---
My African Grey has been very ill for the past 6 months with heavy metal toxicity. He has not gained weight and my veterinarian informed me that he probably would not survive. I tried your Caribbean Crunch and he loves it! My bird is now gaining weight, (20 grams), and he is doing much better. Thank you so much for your wonderful food. - Cindy Daily
---
I wanted to drop you a line and let you know how much my birds enjoy your products, especially Calypso Spice. To wean my babies off their night feeding, they get a warm meal of one of your flavors and they go wild over them. To keep them interested in cooked food I cook three or four recipes and freeze them in ziplocs and alternate the foods each day. I specialize in breeding African greys and Vosmaerie Eclectus and since switching them to Beak Appetit I have no trouble getting them to eat.
- J. Smalley
---
I just wanted to thank you for creating Beak Appetit. My food preparation time has been cut in half. My baby birds love it, making weaning a breeze. Breeder and pet birds beg for seconds and my feeding costs have been drastically reduced. Last but not least your customer service is outstanding. I'M SOLD. - The Parrot Retweet Aviary, Colorado Springs, CO
---
Wow!! What a very nice surprise! My birds LOVE the Calypso Spice and that is the one that they eat most eagerly. Their second favorite is Caribbean Crunch. I happily refer people to your product because it's healthy, easy to prepare, reasonably priced & best of all....the birds eat it! Thanks also for visiting our site...they are your company's greatest spokes birds. - C Pavlinac
---
We have a 3 1/2 year old Congo African Grey who has been on a seed/pellet diet since we brought her home as a baby. We were very concerned about her getting the right nutrition and we came across your product (Caribbean Crunch). Since I cooked up the first batch, she hasn't taken her head out of her feeding dish. When I get up in the morning, she bangs on her bowl with her beak as if to say "Feed me more, I LOVE THIS STUFF!" We haven't tried the Cheese Teaser yet, but Smokie can't wait. - Richard & Sue Leavitt
---
I just received my order and I appreciate how fast I received it. I have never used this product. I am so impressed with the product, but more importantly, how much my birds love it. I feel so good giving them a nutritious start everyday. Thank You - Anne
---
Dear Beak Appetit,
I have an 13 yr. old Yellow Collar Macaw and Jenday Conure. Both started out on seeds, kibble, fruits, veggies and got very fat and picky. Three years ago I switched over to your food. My babies loved it from the very beginning and had no trouble changing over. My vet. is extremely pleased with the overall general health of the birds as well as their current weight. Thank you for the wonderful products. - Sheryl, Oscar and Neille
---
Loved your product! Once in a while I give them a little beef broth in it. Our Blue and Gold was fine for 15 years and started feather plucking and trembling. We live far from an avian vet so I tried better nutrition. They had gotten so they wouldn't eat the pellets anymore. Molly isn't 100% yet, but she is getting there! - Linda Cramer
<< Previous Page | Next Page >>