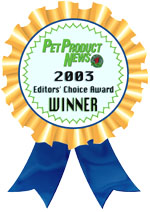 Welcome to our letters page. Here you will find letters from many of our satisfied customers worldwide. We regularly receive these letters via email and snail mail about how our products have changed the lives of our little companions. If you are interested in sending us a letter, click here to email Beak Appetit.
---
Two weeks ago, we went to the airport to pick up Joey, our Patagonian conure. Joey is three years old and has lived a wonderful life in Alabama with his mom. His mom needed to rehome him, due to her poor health. I was speechless to be able to have Joey fly all the way here to become part of my family. The thing is, I think Joey was very confused and missed his mom, as he wouldn't eat much other than pellets and spoonfed oatmeal. One day shy of the two week mark, I made a pot of Beak Appetit's Cream of Tweet. BINGO! That was it! He stuck that beak in and didn't come up until he was full.
I just want to thank Beak Appetit for a quality product. Now, Joey is on his way to eating himself! - Marie Dalzell
---
| | |
| --- | --- |
| Pope, my 14 year old Goffins Cockatoo HATES pellets but absolutely loves whatever is I am cooking. I was sceptical about your product, but when I took it home and cooked it, the family wondered about the wonderful dish I was making for dinner. It smells so good! Sadly, I told them it was for "The Chicken". (Our nickname for Pope) Pope was also very eager to eat whatever was in the pot. When I put it in his dish, I did not see him pick his head up until he was good and full. It was wonderful to see that food covered beak when his head finally did resurface. Cooking it is also so easy and convenient and I can give him the variety he needs. Thank you, Beak Appetit, you made a bird and his mommy very happy. - Sandee Aga | |
---
| | |
| --- | --- |
| I recently ordered a sampler of your six flavors in the trial size packages from one of your distributors. This is the first time I have tried a cooked bird food for my African Grey, Sydney. We are on the third packet, this week, "Cream of Tweet." Sydney is enjoying this one, as well as the "Cinnamon Sunrise." I have been following the package directions and cooking the whole packet. I am looking forward to seeing which of the remaining three flavors Sydney likes. This is a nice way to put more variety into his diet. -Crystal French | |
---
Hi, just wanted to tell you how much my new Half Moon Conure is enjoying your wonderful foods. About 2 years ago I purchased my first order of Beak Appetit for our 'special needs' Green Cheek Conure. She has no lower mandible but is able to eat your foods just fine and looks forward to her cooked dinner daily. Now our new baby is now also a big fan. We were able to purchase your food from a local supply store. Unfortunately, the store is no longer in business so we have just placed another order through your web site. I also ordered the Wheat Grass for both birds and can't wait to see their reaction. Thanks for being so concerned and providing birdy moms (and dads) of the world with such great, convenient and nourishing goodies for our feathered kids.
I have enclosed a photo of my girls. - Marlena J
---
My African Grey, Cookie, is 37 years old and a very picky eater. I gave her your Calypso Spice this morning and she was looking for more this afternoon. I heated up another batch, she ate all that too. I was amazed! The only other thing she eats like that is her daily chicken wing. I hope that she might stop her plucking, I have had her for 13 years and she was already plucked when she moved in with me.
Thank you so much for your product. I almost never write this kind of letter- "but she liked it, she really liked it!" -Michelle and Cookie
---
I just wanted to share this picture and story of Lucy a 5 year old Congo African Grey, a recent addition to our home in December 2002.

Lucy was a 'picker' and almost completely plucked when we received her. For 4 years he had lived on a diet of Zupreem Pellets and a recent addition of seeds. Lucy was not interested in her Zupreem, she ONLY wanted the seed! I learned from her former owner that she had continuously picked her feathers for 4+ years.... While searching the internet for a solution for Lucy, I saw your site and the testimonials of your customers and their beloved parrots with miraculous recoveries.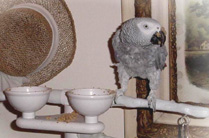 Since the price of you diet is very affordable, I decided to try it... "What did I have to loose?"
When the package arrived, I made up a batch right away....it smelled WONDERFUL! --Lucy LITERALLY dove beak-first into the Nuts For Alfredo I had prepared. She now looks forward to her meals which I supplemented with fresh fruit and vegetables.

--And the best part??? ....LOOK, her feathers are coming back and she has learned to preen herself properly! - Diana Creque
---
Dear Beak Appetit,
Just wanted to report that your products are TOO popular to last long in this house. A while back, we ordered a 6 pack, thinking that would last us quite a while with only one Blue Front Amazon in the house. Humming gleefully, we cooked up several small batches of each flavor, cut into cubes & froze. This worked nicely, as we were able to make 2 months worth of food in a short time. A quick whirl in the microwave, and our dear green friend had a warm meal every day.
Now, to be sure, he first thought that maybe this was okay but not outstanding. Like any seed/nut junkie, he had to be weaned slowly. Within a few weeks, he was really tucking into his Beak Appetit with gusto, and NOW makes very sure we remember to bring him his warm meal at the same time we sit down to dinner. Lord help us if we forget! He now pushes aside seeds in order to get his good stuff first!
Tonight, as I reached for the last 3 little cubes for his dinner, I realized I'd have to make up another couple of batches. So I sent my hubby on a search for the "special" place that I'd put the Beak Appetit mixes. I warned him it was a heavy box. Which it had been. UNTIL the field rat who's moved in for the winter evidently discovered that Beak Appetit is really tasty! (Life in an old farmhouse is sometimes populated with unwelcome guests.) To our shock and dismay, the box was so light I doubted it was what we were looking for. Mr. Rat had systematically eaten his way through all but two small packets (we had repackaged them in convenient sizes for variety batches). This meant taking out small zip lock bags from the bags you sent. He hadn't left but a bit of dust - ate every last bite!
AT LAST, we had an explanation for why our carefully baited traps had gone untouched so long that the really good blue cheese and peanut butter/cracker bait had simply dried up for want of attention. Mr. Rat knew where the good stuff was! Next time, we're baiting the traps with Beak Appetit!
Whisking away the tiny portion of Beak Appetit left so the poor parrot will get some of his food, we sighed, vowed to dismantle the pantry and find Mr. Rat, and of course, had to sit down and order AGAIN some of your really outstanding product.
No doubt about it. If Beak Appetit does for rats what it does for parrots, then we're guessing Mr. Rat is very happy, enjoying his meals with the many varied flavors, gleaming with good health, and possibly now has green, glossy feathers!
Thanks for a great product. My bird thanks you, I thank you, and I'm very sure there's a family of field rats who think they've died and gone to heaven. (Which this weekend, just might happen to them!)
Suzanne Clothier & "Monty" the little green fellow
---
| | |
| --- | --- |
| Enclosed is a photograph of my orange wing parrot Rexie who is about ten years old. Rexie has had a chronic feather loss problem for the past several years. He has been under the care of several avian veterinarians for this very frustrating condition which seemed to be incurable. We tried everything including vitamin injections, lots of new toys and frequent baths which were all without success. Rexie has been on a diet of Beak Appetit parrot food for almost a year and a miracle has occurred. Rexie has all his feathers now and is a truly happy and energetic bird. Incidentally Rexie's favorite recipe is Caribbean Crunch. - Barry Patten | Rexie, an Orange Wing Amazon |
---
Today I received our very first order of Beak Appetit. I have always been hesitant to order "prepared cooked" foods for my conure because she is a "special needs baby " and has no lower mandible. All of the other brands I have tried she has rejected and have more work for me than I need. I have been cooking and putting everything through a food mill and/or processor for her since we brought her home 1 1/2 years ago. All I can say is "bless you." She 'chowed' down on her first mouthful of instant Calypso Spice and literally "purred" through dinner. I prepared our first batch and froze the remainder of the cooked food in ice cube trays for defrosting. I will still make and bake all of her favorite things but it will be so nice to have Beak Appetit for a quick change during those "hectic, gotta have it quick days." We look forward to trying the other two varieties we ordered, Nuts for Alfredo and Caribbean Crunch. Wishing you a happy holiday and many thank for an excellent product. - Marlena Juniman.
---
It seems lately I am writing more letters of complaint than compliment. However, today it pleases me to write this letter to you regarding Beak Appetit bird food.
I have been told by many breeders to purchase various brands of cooked food such as Crazy Corn etc. After looking at the ingredients in some of these foods, in addition to the cartoonish packaging, I decided that this type of food looked more like filler than food. Besides why should I cook for my birds when I don't even cook for myself?
Anyway, I went into a new pet store in Phoenix that had been open for a month. As I was looking around I noticed your Beak Appetit products, as I was reading your ingredients, I noticed how nutritious all of the ingredients were. I was amazed at the quality and the vitamins they provided also. I chose the Caribbean Crunch for my birds because of the vitamin A and the exotic ingredients included. Also, I must mention the packaging. Very professional. More attention given to the product inside than cartoonish pictures and catchy phrases. A very simple label with a readable font, truly shows how much thought went into this product.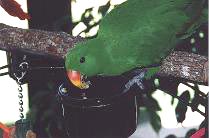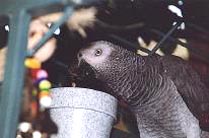 Joey and Maddie, Enjoying Beak Appetit
So, I broke down and started making this for my birds. It's very easy.....A lot easier than I thought. The aroma of the spices was the first thing that hit me. The combination of nutmeg, cloves, and cinnamon definitely made it pretty obvious to me that I purchased a product of natural ingredients.....No flavorings or fillers here.
Well, I was persuaded......now for my birds. I could't`t believe my eyes. I gave them each a bowl and they ate and ate for hours. They get a bowl every night around 4:00 and somehow their biological clocks must kick in at that time, because they get on their perch and wait for their bowls of Caribbean Crunch. They absolutely love this product and I feel good making it for them. A special thanks from Maddie, my African Grey and Joey my Eclectus. And a special thanks from me, their mom for your conscientious efforts in supplying a nutritious vitamin fortified "dinner" for my babies.
- C. Walsh